Latest Journal Entry
category: Anything | April 26 | @187 | comments(1)

Amy Winehouse has likened her love life to a soap opera. The 23-year-old singer, who has developed a reputation for heavy drinking, admits is not easy being her other half because she is always in the media spotlight. She told Q magazine: "Going out with me is like 'EastEnders', 'Coronation Street' and 'Hollyoaks' all rolled into one." 'Rehab' singer Amy, who recently a split from her chef boyfriend Alex Claire, says she would often wake up next to him oblivious to her drunken behaviour the night before. She said: "I'd go, 'Morning!' And he'd say, 'You don't remember anything you did last night do you?' Then he'd tell me some horror...
myGALLERY
Latest additions
| | | |
| --- | --- | --- |
| Published on: 04/26/2007 | Published on: 04/26/2007 | Published on: 04/26/2007 |
Profile
Member name:
AmyWinehousex3
Full Name:
([*x.Lindsay.x*])
Gender:
Female
Age:
26
Country:
United States
welcome to my site. xxx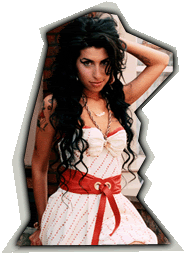 Meet you downstairs in the bar and hurt,
Your rolled up sleeves and your skull t-shirt,
You say "What did you do with him today?"
And sniffed me out like I was Tanqueray,
'Cause you're my fella, my guy
Hear me, you're Stella and fly,
By the time I'm out the door,
You tear men down like Roger Moore
I cheated myself,
Like I knew I would
I told you, I was trouble
You know that I'm no good
Upstairs in bed with my ex-boy,
he's in a place but I can't get joy.
Thinking on you in the final throes,
This is when my buzzer goes.
Run out to meet you, chips and bitter,
You say "when we married,"
Cause you're not bitter,
"there'll be none of him no more"
I cried for you on the kitchen floor
I cheated myself,
Like I knew I would
I told you, I was trouble
You know that I'm no good